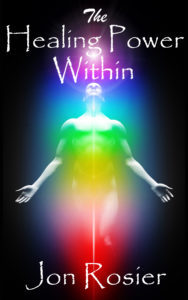 What does "The Healing Power Within" have to do with web development? What an amazing question, I am glad you asked! The reason for this post is because the owner of Sacramento Web Services, Jon Rosier, is now a published author. His new book titled The Healing Power Within is now available on Amazon in Kindle and paperback.
Of course the book has nothing to do with web design, or SEO. It is a book about mediation that explains how to get relief from negative emotions such as fear and anger. Although it is not about anything web, it is a powerful example of the kind of skills Sacramento Web Services brings to the table.
Whether you are into mediation or not, the way that this book is written says a lot. It has creativity mixed with knowledge and skill. It illustrates the power of dynamic writing skills. If you sign up with Sacramento Web Services Jon Rosier will give you an autographed free copy.
Below is a brief description of the book:
Discover the dynamic healing power of self-healing meditation. Whether you are a beginner, or a seasoned meditator the power packed into these pages will charge your spirit with electric, healing energy. You will unleash the healing power of the universe and find the ultimate guide to freely utilize the healing force that each one of us carries around within our own bodies. Learn how to reveal the hidden source of self-healing energy that resides within your own being by ways of guided meditation, chakra meditation, and one pointed concentration meditation.The methods in this book are designed to help the reader reach the deepest, and furthest depths of the very soul in order to bring forth amazing, beautiful results that leave the meditator energized, alive and whole. Nothing complicated, or hard in these pages only simple pathways that lead to a healthier, stronger, and more energized person. Within these words are keys that unlock several chains of suffering that most of the humans on this planet deal with on a daily basis.Stand up to the negativity in your mind. Give yourself a break and read this fulfilling guide to life that will give you substance and personal growth beyond imagination. The steps and information provided within these pages will boost your chakra energy, lift your whole spirit, and refresh every cell in your body. Learn about the chakras, the energy that dwells within your own body, and how to use that energy effectively. When you read this book, you will uncover the secrets of:
•Chakra Meditation
•Personal Purification Meditation
•Personal Protection Meditation
•Guided Meditation to Release Anger
•Forgiveness Meditation
•Kindness Meditation
•Love Meditation
•Self-Healing Meditation
•Meditation to Promote Inner Strength
•Meditation for Stress Relief and Relaxation
•Meditation to Release Fear